WW1
If you could spare a few dollars to help with the running costs of hosting this website to keep it alive would be very much appreciated.

Thankyou from Gravesites of Tasmania in advance.
Chatwin, William Raymond
<![if !vml]>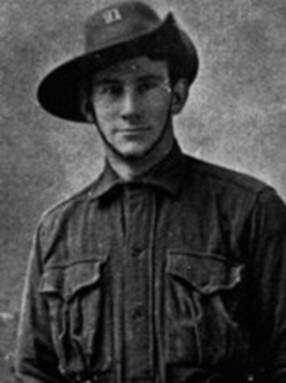 <![endif]>
Born Burnie Tasmania to Alfred John and Hannah Chatwin he embarked Melbourne 27th October 1915 on board "HMAT Ulysses with the 15th Infantry Battalion.
He was killed in action 31st December 1916 and is commemorated in the Bernafay Wood British Cemetery, Montauban, France.
LATE CORPL. CHATWIN, D.C.M.
COMRADES TRIBUTES. 'A DEVOTED SOLDIER'
An Anzac in the highest meaning of that word, Corporal William Raymond Chatwin was a young soldier of whom Burnie might well feel proud, and a soldier whose memory will be long honored.
Glowing tributes of the noble character of this young soldier, who met his death in France on December 31 last, have just come to hand, and his comrades speak in the highest terms of his valiant conduct. He was a Burnie boy, for he would not have attained his 20th year until next month, and the numerous expressions of sympathy his mother — Mrs. H. C. Chatwin of Ladbroke Street — has received, locally and from every part of the coast, go to show the deep regret felt at the close of a promising career. That Corporal Chatwin was a fine soldier is indicated by the fact that some time before he made the supreme sacrifice, he was decorated with the Distinguished Conduct Medal and received promotion. He left Tasmania as a private in the 15th Battalion, with two Brothers, and saw service at Gallipoli, and upon going to Franco his conduct in one of the engagements of the July offensive earned for him the distinction above mentioned. Corporal Chatwin was one of those modest young men who do not enlarge on their own deeds, and his relatives were unaware of what he had done to merit such an honor; He could not be drawn out on the subject, and it was left for one of his comrades to write to his mother and acquaint her of her son's gallantry, the story of which is told in the following simple manner: 'Your son found himself in rather a fix after an eight days' battle, with a wounded British officer and a. few German prisoners. He made the prisoners place the officer on a sheet and carry him back to the British lines at the point of the bayonet. Two or three times the prisoners tried to bolt but by continually 'persuading' them he managed his task all right. The officer was wounded in the body, arm and leg, and the injured limbs have since been amputated, but he is still alive. Your son is a good chum, who would not leave one in a hole; and he has proved it. When he arrived back he had only one boot and stocking and had only two meals in eight days, so he must have been pretty well used up himself. It was in an act of devotion to duty that Corporal Chatwin met his death. Another corporal in the same unit supplies on account of it.
Corporal Chatwin was working on a portion of railway line, when the Germans started shelling, and the party was ordered to withdraw to a safer position, which was carried out; Corporal Chatwin showing marked attention to the men under him. Suddenly the Germans altered their range, and dropped some shells near the party, but no one was hit. In consequence the men had to scatter, and the corporals in charge had to see to their own men. It was while Corporal Chatwin was engaged in this work that a piece of shell struck him, killing him instantly. The writer proceeds to say: 'It happened at 12.30 p.m. on December 31, and we buried him on Jan. I. A cross will be erected by his comrades to mark his resting place. He set an example to us all by his coolness under fire and his conduct generally; he was respected by all. You should by now have proof of his courage. You have every reason to be proud of him, he nobly did his duty. He and I were buried with a shell in August last; but were not injured. It was splendid to see how cool he kept.' Lieut. V. Atkinson, of D Co., l0th Battalion, adds his quota to the tribute as follows: — 'A few particulars of your son's death might, if possible, make you feel more proud of him. He was a corporal in my platoon, and his cheery disposition was always a help to the men in his section, and that he was well liked was shown by the fact; that his men would do anything for him. He was killed while taking his men out of the danger zone; in this he showed his unselfishness and devotion to duty, by seeing his men safe before he looked after himself. While in action he stood out above the others and thought only of his duty and nothing of his personal danger. Several of his mates were at his funeral, and an Australian minister officiated. We are having a cross erected. It is just a simple marker from his mates; when the war is over it can be replaced by something bettor. He is buried in Bernafay Wood, near the ruined village of Montauban, between Albert and Bapaume, in a British cemetery. Please accept our sincere regrets for the loss you have sustained, and don't forget in your sorrow that we are all proud of him
North Western Advocate 30th March 1917