WW1
If you could spare a few dollars to help with the running costs of hosting this website to keep it alive would be very much appreciated.

Thankyou from Gravesites of Tasmania in advance.
CLAYTON, WILLIAM ALFRED
<![if !vml]>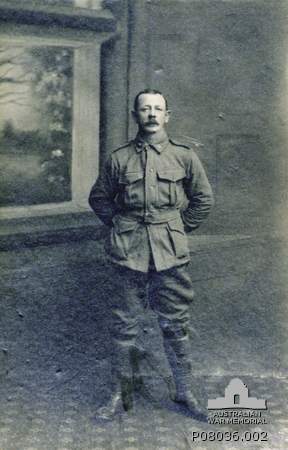 <![endif]>
Studio portrait of 5074 Private (Pte) William Alfred Clayton, 12th Battalion, of Dover, Tas. He had previously served with a British unit, Bethune's Mounted Infantry, also known as Bethune's Horse, in the Boer War. A labourer and sailor prior to enlistment in the First World War, Pte Clayton embarked with the 16th Reinforcements from Melbourne on RMS Orontes on 29 March 1916. He transferred to the 52nd Battalion and was later he was killed in action on 12 April 1917 in France, aged 42.
Captain J. Clayton of Dover has received the following letter from Rev. D. H. Blackwood re the death of his two sons, Privates William and Edward Clayton :
"Dear Mr. Clayton My heart just goes out to you in deepest sympathy in the sad loss of your two noble sons in our recent turn in the line. They had done splendid work all the time, but particularly the day before they were taken That was a day of tremendous fighting. Towards evening a great many of our wounded were still lying out in No Man's Land some right away by the enemy's wire. Your two sons, with some others, volunteered to go out in open daylight to bring them in. They worked splendidly and by dark all the wounded had been got in. As a reward, those volunteer stretcher-bearers were sent back out of the line to supports, to have a good sleep. Strange it seems that there they should have been both caught by one shell, with three others. It was quite close to where I was at the time. We buried them with full rights of the church under fire. The next day nice crosses were erected over their graves. I believe they were to be recommended for their brave work on this occasion. It does seem strange and hard that both may have been taken together, for they always tried to keep separate in action, going in different patrols,