WW1
If you could spare a few dollars to help with the running costs of hosting this website to keep it alive would be very much appreciated.

Thankyou from Gravesites of Tasmania in advance.
Collette John Montague
<![if !vml]>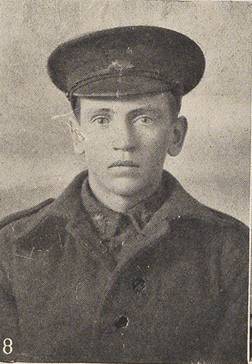 <![endif]>
Born 12th April 1898 Table Cape Tasmania to John Thomas and Annie Collett (nee Cowell) he departed Melbourne 2nd October 1916 on "HMAT Nestor" with the 22nd Infantry Battalion
He was taken ill in England and admitted to the Military Hospital Devonport England where he died from Cerebro Spinal meningitis.
He is commemorated in the Plymouth (Efford) Cemetery, United Kingdom.
Mr. J. T. Collett Newstead Launceston has received further news of his son, Private J. Collett, late of the 22nd Battalion, who died from meningitis in England. In a letter kindly forwarded by Privates H. Whyfoon, T Sullivan. W. Rogers, P. Pelham. and P. J. King of the 54th Battalion, they say: — 'We were staying in Plymouth on the 29th November, the day of your son's funeral, which was a military one, and largely attended. There were two beautiful wreaths placed on his grave — one we provided and one from the nurses of the hospital where your son was well liked. He was buried at Plymouth. Everything possible was done for your son and we thought you would like to know he had a few Australians by him when he was laid to rest
The North Western Advocate 27th February 1917