WW1
If you could spare a few dollars to help with the running costs of hosting this website to keep it alive would be very much appreciated.

Thankyou from Gravesites of Tasmania in advance.
Iles, Gordon Henry
Born 13th March 1895 Port Sorell Tasmania to Arthur Henry and Margaret Iles (nee Aitken) a farmer who embarked Melbourne 27th October 1915 on board "HMAT Ulysses" with the 15th Infantry Battalion
Bombardier Iles was killed in action 5th April 1918 near Albert in France and is buried in the Warloy-Baillon Communal Cemetery Extension, France.
THIRLSTANE.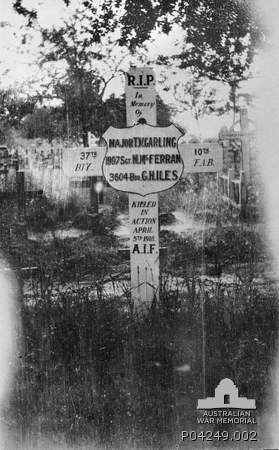 The people of Thirlstane were deeply moved to learn that Gunner Gordon Iles had been killed at the front. He was a general favorite with everyone who knew him and was the possessor of a bright happy disposition. Gunner Iles left Tasmania over two and a half years ago and had over two years solid fighting. He had had a few 'close shaves,' sometimes getting a slight scratch, but not enough for a spell. Only a few weeks ago Mr. lies received a letter from his son telling of a lucky escape he had had. He was standing near his dugout when a pal called him away. He had just got clear when a shell burst right where he had been standing. The very deepest sympathy is extended to Mr. and Mrs. A. H. Iles and family in their sad loss.
The North Western Advocate 8th May 1918