WW1
If you could spare a few dollars to help with the running costs of hosting this website to keep it alive would be very much appreciated.

Thankyou from Gravesites of Tasmania in advance.
Kerslake, Basil
<![if !vml]>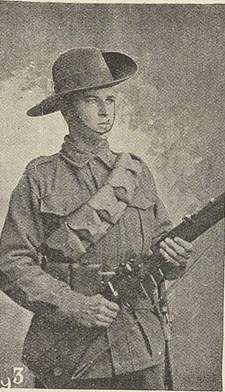 <![endif]>
Born 27th November 1894 Launceston Tasmania to William and Selina Kerslake (nee Crooks) a reporter who departed Newcastle 21st December 1914 on board "HMAT Thirty-six" with the 3rd Light Horse Regiment.
He died 5th August 1916 from wounds received in Palestine and was buried in the Jerusalem Memorial, Israel.
Word has been received by Mr. W C Kerslake of Burnie to the effect that his brother Trooper Basil Kerslake of the 3rd Light Horse has succumbed to a wound in the stomach received in the battle of Romani early in August, his death occurring on August 5 Lieut. Griffon of Whitefoord Hills, who took part in the engagement, describes the conduct of the young soldier as magnificent. 'Nothing,' he said, troubled him and when he got hit he showed real grit.
When war broke out Trooper Kerslake volunteered, but was rejected on account of his height, he was accepted for the second contingent, and eventually became attached to the 3rd Light Horse. He was then only 19 years of age. For seven months he went through the hardships of Gallipoli and was twice stricken down with fever. He was ordered to be invalided home to recover on the second occasion, but at his request, this order was cancelled.
Previous to this he was attached to the Headquarters Staff, but could not resist the temptation of the firing line, and was transferred. A returned soldier speaking of him declared that he was one of the best soldiers that had left Tasmania. He was a son of Mrs. S. P. Kerslake of Launceston, and a brother also of Mr. G. Kerslake of Devonport. Educated at the Launceston High School, he was a school mate of the late Captain Ivor Margetts and Srgt. George Challis.
The North Western Advocate and the Emu Bay Times 17th October 1916