WW1
If you could spare a few dollars to help with the running costs of hosting this website to keep it alive would be very much appreciated.

Thankyou from Gravesites of Tasmania in advance.
Kingston, Herbert James
<![if !vml]>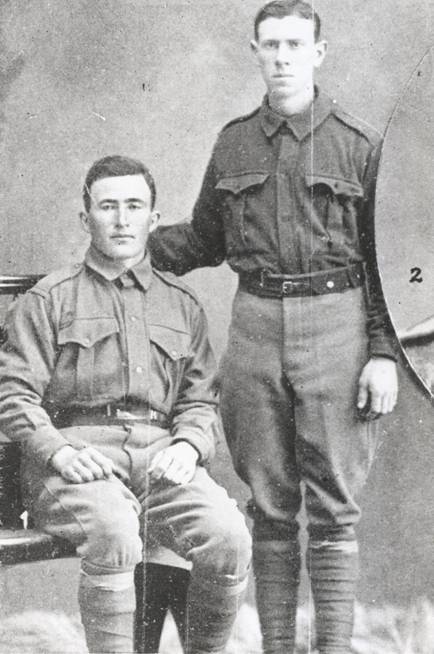 <![endif]>
The Levendale Community greeted news of World War One with some enthusiasm; this small community contributed thirteen men to the service of King and Country. The most notable of these, in terms of Levendale Primary School's history, was Herbert James Kingston, whose photograph takes pride of place at the school. Bert was born at Woodsdale, the eldest son of William and Mary (nee Roberts) Kingston. Bert and his family moved to Levendale around 1912, and sometime in 1914, Bert moved to the mainland looking for work. Bert enlisted at Alexandria in Victoria, a mere six days after the recruiting stations had opened. Consequently, Bert was a member of the Victorian Unit 2nd. Brigade, 7th. Battalion.
The unit embarked from Melbourne, Victoria, on board New Zealand registered Transport A20 Hororata on October 19, 1914, heading for Albany, Western Australia. On November 1, the troops left Albany bound for England via Colombo, Aden and the Suez Canal. Sometime after the fleet left Aden on November 26, these plans were altered and the decision made to land the troops at Alexandria in Egypt, where they would undergo further training at Mena Camp near the Great Pyramids.
On December 3, the convoy landed at Alexandria, and the troops commenced a rigorous training regime designed to harden them for the battles ahead. The Turks launched a series of unsuccessful attacks in late January 1915 on the Suez Canal, and Bert was sent to take part in the mopping up operations, although by the time he had arrived, the Turks had withdrawn. On April 3, Bert boarded the troopship Galeka to take part in the second wave of landings at Gallipoli. Landing opposite the position known as "Fisherman's Hut", Bert and his mates found themselves in great difficulty with many killed or wounded before they had even reached shore. Those who did manage to land found themselves pinned down by heavy rifle and machine gun fire. Between April 25 and May 1, the 7th. Battalion suffered 541 casualties (out of 987 Officers and Men); twenty year old Bert, who died at the landing, was one of these.
At the time of enlistment, Bert stated that he was single, 19 years, 10 months old and his occupation was Bush worker. He was 5 feet, 6 7/8 inches tall, weighed 135 1/2 lbs, chest measurement 33 1/2-36 inches, complexion fair, eyes grey, and hair fair. His religion was Church of England, and his next of kin was his Father, W J Kingston, Levendale, Tasmania. Bert had previously served 2 years with the Tasmanian Light Horse.
There appears to have been some confusion as to Bert's fate. In response to a letter dated September 22, 1915 from Bert's mother, Mrs Mary Jane Kingston expressing her concern regarding Bert's whereabouts and condition, a cable was sent from the Department of Defence to Egypt seeking information. Mary also mentioned in her letter that she had not heard from Bert since April last, and her only advice had been a telegram on June 9 advising that her son, Private H.J. Kingston, had been wounded "REGRET SON PRIVATE H.J. KINGSTON WOUNDED NOT REPORTED SERIOUSLY NO OTHER PARTICULARS AVAILABLE WILL IMMEDIATELY ADVISE ANYTHING FURTHER RECEIVED SECRETARY DEFENCE".
Further, Mary advised that she would be very much obliged if she could have any information about Bert; as he had enlisted in Victoria, perhaps he had not been receiving her letters, could the Department of Defence Kingston, Herbert James (standing) please send his address.
Following on from this, a letter was forwarded to Mr. J. Kingston of Levendale, on October 22, 1915 informing that a cable had been received regarding the whereabouts and condition of your son, No. 328, Private H.J. Kingston, 7th. Battalion. The Officer in Charge advised that Private Kingston was reported to be wounded on April 25, and that the Egyptian Authorities were investigating the case, and once completed, the outcome will be promptly communicated.
January 1916, Mary forwarded a letter to the Department of Defence further enquiring about her son, Bert. In the letter she advised that she had received a telegram stating that Bert was wounded and missing. When Mary received a claim of a war pension, it stated that Bert was now deceased. Mary pointed out that she had not received any advice to say that Bert was killed or had died from wounds. The last time her son had written home was April 3, 1915. Mary said that she had been wondering why she had not received another letter from Bert. She asked that a message be forwarded as soon as possible; also if Bert had anything belonging to him, including clothing, could these please be forwarded to Mary. In a subsequent letter, Mary also enquired if Bert had life insurance, his sister who resided in Victoria, understood that he had insured his life. Mary signed the letter "yours in haste".
On February 14, 1916, the Department of Defence forwarded a letter to Mary confirming that they had no additional information concerning the whereabouts of Bert. They advised that when a soldier is missing and cannot be satisfactorily accounted for, a Court of Inquiry is held at a later date to collect all evidence of the case and record an opinion as to whether it is reasonable to suppose the soldier is dead. Until the finding of the Court is to hand, no steps are taken to dispose of his personal effects. As soon as the Court of Inquiry has been held, the next of kin will be promptly advised.
Mary forwarded a letter to the Department of Defence, Melbourne on March 16, 1916, informing them that she had heard from her nephew in Egypt that her son, Private H.J. Kingston was in hospital in Egypt because of wounds sustained when he was kicked by a horse. Mary asked that the Department of Defence follow up and provide her with information.
The Department of Defence wrote to Mary on March 22, 1916 advising that they had no other information as to Bert's whereabouts, other than that he was wounded and missing on April 25, 1915; the Officer in Charge asked that if Mary had any advice to the contrary, could she please advise further. If the informant is a member of the AIF, it will be necessary to furnish his regimental number, rank, name and unit to which he is attached.
According to the findings of a Court of Enquiry held in the field, France, June 5, 1916, Bert was killed in action April 25, 1915, on the Gallipoli Peninsula, Turkey. He had previously been reported as wounded and missing.
Mary received a letter dated December 2, 1916, from the Officer i/c Base Records, acknowledging her letter regarding her request for Bert's personal effects and the question of life insurance. He advised that it was unlikely that Private H.J. Kingston would have any personal effects in view of the fact that he was first posted as missing on 25/4/15, and that it was not until 19/10/16 (some 18 months afterwards) that he was adjudged, as the result of the Court of Inquiry proceedings, to have been killed in action on the former date. Rather condescendingly, the Officer noted that "... is it likely that anything can be available? - particularly as Egypt has advised us that everything which remained there have now been cleaned up." Regarding the question of life insurance, nothing is known. Your son probably referred to the provisions that were made under the War Provisions Act, and if you have not already done so, you should submit your application for consideration to the Local Registrar of Old Age Pensions.
Mary received a package on April 23, 1918 containing her son's belongings; a belt and buttons ex kit store.
Bert is commemorated at the Lone Pine Memorial, Panel No. 29, and also on the Roll of Honour, Australian War Memorial, Panel Number 50. There is no trace of Bert's final resting place.
Mary asked that eight copies of Part II of the Lone Pine Memorial Register containing reference to the demise of Private H.J. Kingston, be sent to the following; Mrs J Poskitt (2), 25 Bealiba Road, Caulfield, Victoria, Mrs E J Salter (1), "Ivanhoe", Plenty, Tasmania, Mrs A H Wickham (1) "Inverquaharity",Richmond, Tasmania and 4 to be sent to La Mascotte, Bellerive, Tasmania (previously Levendale).
Bert's Dad, W.J. Kingston, received his 1914-15 Star Medal, the British War Medal, the Victory Medal, a Memorial Plaque, King's Message, and pamphlet, "Where the Australians Rest". Mary received an annual pension of £30.
National Archives of Australia, Item B2455, KINGSTON HERBERT JAMES
"Centenary Levendale Primary School 1901 – 2001 – a century of history" by Levendale Primary School 2001, pp 7 and 9.
The (Illustrated) Tasmanian Mail, September 9, 1915, p.20.
Photo and information supplied by Leanda Balmforth