WW1
If you could spare a few dollars to help with the running costs of hosting this website to keep it alive would be very much appreciated.

Thankyou from Gravesites of Tasmania in advance.
Newbold, Frank Kent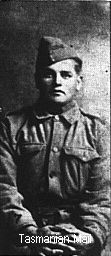 Born 1896 Hobart Tasmania the son of Joseph and Alice Rebecca Newbold (nee Bullen) a clerk he embarked Melbourne 11th October 1915 on board "HMAT Nestor" with the 14th Infanry Battalion.
He was serving with the 12th Infantry Battalion when he was killed in Action 19th August 1916 at Moquet Farm and is commemorated on the Villers-Bretonneux Memorial, Villers-Bretonneux, Villers-Bretonneux Area, France.
Mrs. Kent-Newbold of Bell Street, Glebe has received the following letter from Company Sargeant-Major Sheedy concerning the death of her son : -
Dear Madam, Today I received a letter from you and I am only too sorry that it has bren mislaid so long Now Mrs. Newbold, I will tell you all I know about your son Frank. I was company sergeant-major of A Company, and Frank was my messenger. He went into action on 22nd of August, 1916, and we did a daylight bayonet charge. Frank was with me all the time until 23rd August, when I had occasion to send an urgent message to the captain of our company, Frank taking the message from mc. I never saw him again. One of the boys came along and told me that Frank had been Killed. I went around to where he was, and had a look at him; he had been shot through the temple with shrapnel. Death must have been instantaneous. Now-, Mrs Newbold, I know you will like me to tell you the truth. Well, as far as I know, Frank and a lot of other poor follows were all buried together in a big shell-hole, but the place was never marked as we were all disorganised and never had time. Frank had boon with me on the Peninsula, and when he joined us up again in France I had him with me because he was only a little chap. He was very popular with everybody, and we all missed him as one would a brother. But, Mrs. Newbold, he died a hero if any one did. The poor little chap had been running messages for me all the time, and always got his messages through all right; even thoe last ono he delivered, but was killed coming back. The action we were in was Moquet Farm; you will have read about it in the papers. When we came out I was sent to England on the instructional staff, and I was awarded the Military Medal. 1 got pretty badly shaken up myself, but am getting over it now. If there is anything more you would like mo to do, Mrs, Newbold, I will only be too pleased. If I have the luck to get back again I will call on you. . My own home is in Devonport. -Sincerely yours, Frank's pal, Will Sheedy.
The Mercury 27th June 1917