WW1
If you could spare a few dollars to help with the running costs of hosting this website to keep it alive would be very much appreciated.

Thankyou from Gravesites of Tasmania in advance.
Viney, Douglas Daniel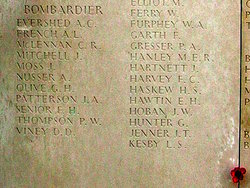 Born 1897 Evandale Tasmania the son of Daniel and Marie Jensen Viney (nee Rassmussine) a farmer he embarked Melbourne 24th November 1915 on board "HMAT Botanist" with the 6th Field Artillery Brigade.
He was killed in action 29th November 1916 at Flers France and is commemorated on the Villers-Bretonneux Memorial, Villers-Bretonneux France
Yesterday the sad news was received by cable that Driver Douglas Viney second son of Mr. D. Viney, of Fernhill Nile, was killed at the front on November 19. The deceased, who was only 19 years of age was a particularly promising young man and had been in Egypt and at the front for about 11months. Much sympathy is expressed for the parents and their family in their sad bereavement. The deceased was a Grammar School boy and his fine manly disposition made him a general favourite.
The Examiner 20th December 1916