World War 11 Casualties
&nbsp

If you could spare a few dollars to help with the running costs of this website would be very much appreciated.

Thank you from Gravesites of Tasmania.
Auton Leonard James
Service Number 23868 Death Date 1/03/1942 Place of Death HMAS Perth Cause of Death Lost at Sea Burial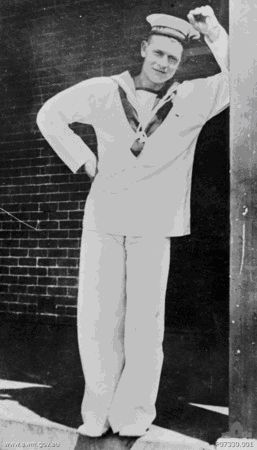 Informal portrait of 23868 Able Seaman (AB) Leonard James Anton (Auton), HMAS Cerberus, of Branxholm Tas. A labourer prior to enlistment, AB Anton trained at HMAS Cerberus and then served on HMAS Perth from September 1940. AB Anton was killed in action on 1 March 1942 when HMAS Perth was attacked and sunk by Japanese destroyers during the Battle of Sunda Strait. He was 22 years of age.
Branxholm Cemetery
AUTON, Leonard James, 'Jimmy', 7.5.1920 - 1.3.1942, lost at sea with HMAS Perth, Sunda Strait, eldest son of George and Daisy, Branxholm, remembered with love and sadness, Able Seaman 23868, niche wall.