World War 11 Casualties
&nbsp

If you could spare a few dollars to help with the running costs of this website would be very much appreciated.

Thank you from Gravesites of Tasmania.
Dale Tasman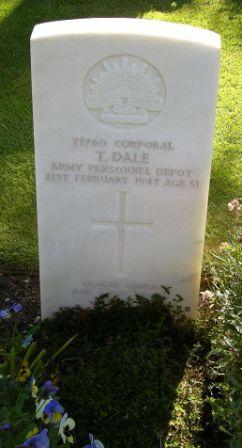 OBITUARY
Cpl Tasman Dale
The funeral of Cpl Tasman Dale, who died in the Campbell Town military hospital, was held at Campbell Town on Tuesday. The coffin was draped with the Union Jack and soldiers formed a guard at the entrance to the cemetery. The pallbearers were members of the hospital staff.
The service at the graveside was conducted by the Rev A. S. Drewett, and "The Last Post" was sounded.
The chief mourners were Mrs Dale (wife), and the young family of eight sons and daughters and Mr S. E. Dale (brother).
Capt V. T. Vale, WOs Gibson and Snooks, and Sgts Cockranč and Ferrar were present. The Glenorchy sub- branch of the RSL was represented by the secretary (Mr A. Hall) and the Chief Secretary (Mr Brooker). The Midland sub-branch was represented by Messrs H. Gillam and J. Davis.
The Mercury 25 Feb 1943
Photo taken by Kay Newman