World War 11 Casualties
&nbsp

If you could spare a few dollars to help with the running costs of this website would be very much appreciated.

Thank you from Gravesites of Tasmania.
Deed Cyril Keith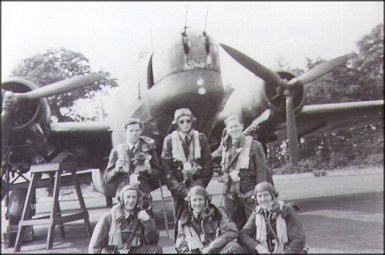 Back row: L-R J.M. Ward (Bomb Aimer), M.C. Skarratt (Pilot),R.I. Stewart (Wireless Operator).
Front row: L-R C.K. Deed (rear gunner), G.F. Day (mid uppergunner), R.J. Dickie (Navigator).
Born 26th December 1918 Maryborough Victoria but was actually living at Devonport Tasmania when he enlisted and was posted to be 460 Squadron.
On the 22nd December 1944 Cyril Keith Deed was reargunner on a flight to Germany when it was intercepted by German nightfighters above the province of North Limburg when the aircraft was badly damaged so the pilot decided to turn back to his base in England .
They were above Oostelbeers when the aircraft exploded and crashed into the woods below.
All seven crew members were killed
L-R: G.E. Day, C.K. Deed R.J. Dickie, M.C. Skarratt T.C. Newman R.I. Stewart, J.M. Ward
Peter Dunn's " Australia @ War" web site at www.ozatwar.com