World War 11 Casualties
&nbsp

If you could spare a few dollars to help with the running costs of this website would be very much appreciated.

Thank you from Gravesites of Tasmania.
Edgecock Frederick Stanley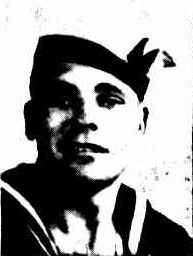 The Mercury 31 Jan 1942
LOST IN ARMED MERCHANTMAN
Hobart Boy's Death
Mr. and Mrs. T. H. Edgecock Battery Pt., Hobart, were advised yesterday that their youngest son, Able Seaman Fred Stanley Edgecock, who was previously reported missing, is now presumed to have been killed.
A.B. Edgecock had been a member of the R.A.N.V.R. for several years before the war and was called up immediately after the outbreak. He first saw service as gunner on the armed merchant ship Rabaul, which was sunk by a submarine en route to Australia on her second voyage. With other members of the crew he was taken prisoner, but was rescued by a British warship. After a time in England he was appointed to another armed merchant ship, which disappeared in October last.
A.B. Edgecock was born in Hobart, and at one time played soccer with South Hobart. - Mr. and Mrs. Edgecock have two other sons serving with the A.I.F. overseas.