World War 11 Casualties
&nbsp

If you could spare a few dollars to help with the running costs of this website would be very much appreciated.

Thank you from Gravesites of Tasmania.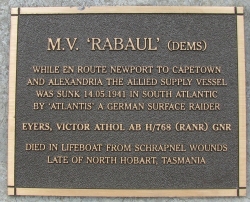 The Courier Mail 16 July 1941
AUSTRALIANS KILLED BY RAIDER'S SHELLS
LONDON, July 15. — Two Australians were killed and three wounded when the German raider Temesis fired six-inch guns at point blank range and sank the W. R. Carpenter liner Rabaul (5618 tons) two months ago. Some of the survivors of the attack have just reached England after spending several weeks on board three prison ships.
The third of these prison ships was sighted by British warships on June 24 and scuttled. The vessel was the Alstertor, the scuttling of which, with the release of the prisoners, was announced on June 28. The Australians' experiences were narrated by Apprentice Officer Irvine King, 19, of the Rabaul, whose home is at Vaucluse. Those killed in the attack on the Rabaul were: Apprentice-Officer William Gulliver, 21, of King's Cross; and Gunner Victor Eyers, 23, of Hobart. It is believed that 18 men from the raider's victims, who were too badly injured to be transferred to prison ships, are on board the Temesis still.
Liner Shelled
Apprentice-Officer King said that the Rabaul was in the South Atlantic, bound for the Middle East, on a cloudy night on May 14 when one of the crew sighted the raider Temesis, which poured in 6in. shells when the skipper refused to scuttle the Rabaul. The first salvo mortally wounded
Eyers
, who was manning the forward gun and hit the cook's galley, killing Gulliver, who was sheltering there. It killed four English members of the crew also. Twenty one shells struck the Rabaul, causing fires, which lit up a horrifying scene. 'We lay down in the alleyway, clad
i
n pyjamas, thinking that death was near,' said King. 'Flames forced us to the deck, where Apprentice-Officer Bruce Wharton, of Sydney, was hit by shrapnel. After what seemed an eternity the shelling ceased. Burning oil covered the deck, and the Rabaul was listing so badly that I slithered into the scuppers, where I was burnt badly by acid from burst containers. 'We lowered a lifeboat in the blinding glare of the Temesis' searchlight The Temesis began to move, causing us to fear that we were goners, because our lifeboat was leaking and the water casks were holed. However, the Germans were manoeuvring to shelter us while they helped us aboard and lowered a launch to search for survivors. 'The Temesis was an 18-knot vessel of 8000 tons, and was equipped wonderfully. She had eight 6in. guns, many anti-aircraft guns, and a small seaplane, which was employed from daylight to dusk seeking victims.