World War 11 Casualties
&nbsp

If you could spare a few dollars to help with the running costs of this website would be very much appreciated.

Thank you from Gravesites of Tasmania.
Frankcomb John Clarence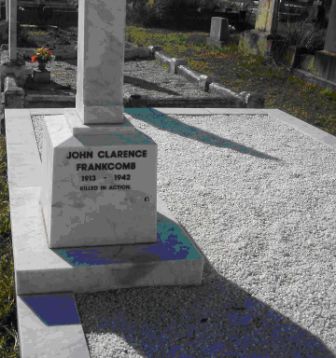 Born Ranelagh Tasmania to Thomas Amesbury and Maida Selby Frankcomb, he was farming at "Clifton" Ranelagh when he enlisted in the RAAF
He was attached to 218 Squadron and flying Stirling N3715 HA-D when an engine failed over the target area. Flying Officer Frankcomb managed to return on three engines but on final approach the starboard outer lost power and the Stirling spun into the ground.
6 crew members including Flying Officer Frankcomb were killed in this incident.
He is buried at Markham Cemetery Norfolk England and also commemorated at St. James, Ranelagh Tasmania.