World War 11 Casualties
&nbsp

If you could spare a few dollars to help with the running costs of this website would be very much appreciated.

Thank you from Gravesites of Tasmania.
Geason Vincent Joseph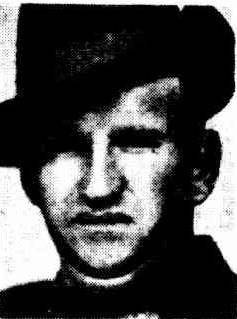 GEASON.-In loving memory of my dear husband, Pte. Vin Geason. killed in action, Milne Bay, August 31. 1942.
When last we saw your smiling face You looked so bright and well, But little did we think that day would be our last farewell. We were not there at the hour of death to hear his last faint sigh.To whisper just one loving word Or even say good-bye.Inserted by his loving wife and children, Mary, Vin, Alf, John. Kevin, and Pat.
GEASON.-In loving memory of my dear son, Pte Vincent Joseph Geason, 12th Batt., AIF, killed in action at Milne Bay, August 31, 1942.The midnight stars are shining, dear Vin, on your grave. I cannot see: You nobly did your duty two years today.I was not there at the moment, dear Vin, To hear your last faint sigh, or just whisper one loving word .Before you passed away. Inserted by his loving mother, Sarah Geason
TO the memory of the following members of this unit who lost their lives under tragic circumstances August 17, 1943:-Capt Tansey, L. E., Capt Whitfeld. D. C., S-Sgt Harrison, L. H., Sgt Harrison, R. L. Sgt Fiske, ti G., Pte Osborne, I. G., Pte Walker, K.R.. Pte McLaine, D.
They shall grow not old, as we that areleft grow old:
Age shall not weary them, nor theyears condemn.
At the going down of the sun and in the morning .
We will remember them. "
Inserted by staff of 2/7 Australian General Hospital.
The Mercury 31 August 1944