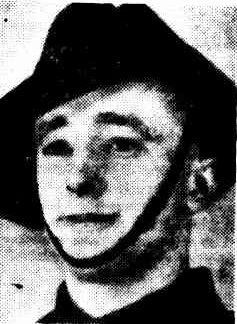 FOUR RAAF AIRMEN KILLED
LAC ALAN GOYNE who was killed in an aircraft accident in Victoria on Sunday.
The picture was taken before he joined the RAAF.
Four trainee pilots were killed on Sunday when two aircraft from an RAAF station in Victoria collided while on a training flight. They were: LAC Albert Ian Gumley 19 of Cressy (V); LAC Noel Irvine Crane (20), of Ivanhoe (V); LAC David George Haig (34), of Rose Bay (NSW); and LAC Alan Kenneth Goyne (20) of New Town (T).
LAC Goyne was the second son of Col T. A. Goyne, formerly of New Town. His initial training for the RAAF was completed in Northern Tasmania, and he recently gained his wings. He was educated at the Hobart High School, and subsequently was employed at Tasmanian Industrial Gases. Hobart. He was a keen rower and .was associated with the Derwent Club in Hobart. His elder brother Max also is a member of the RAAF. He was a nephew of Mr K. Goyne manager of 7HO broadcasting station.
The Mercury 22 July 1943