World War 11 Casualties
&nbsp

If you could spare a few dollars to help with the running costs of this website would be very much appreciated.

Thank you from Gravesites of Tasmania.
Ikin Kenneth William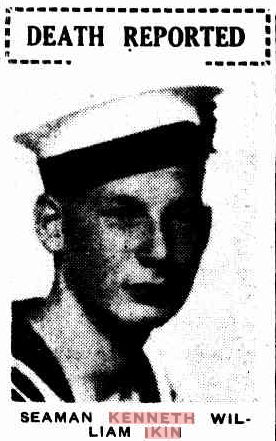 The Mercury 29 June 1945
DEATH REPORTED
SEAMAN KENNETH WILLIAM IKIN
Whose death in a prison camp in Thailand as a result of air bombardment on Dec. 13, 1944 has been reported.
Educated at the Hutchins School, and a junior member of the Royal Yacht Club (cadet dinghies), he was the son of Mr and Mrs V. A. Ikin, Sandy Bay Rd. Seaman Ikin had served with the Navy since September, 1939, and became a member of the crew of the Perth in June, 1940. He participated for seven months in the Mediterranean, in the Battle of Matapan, and in the evacuation of Greece and Crete. He was taken prisoner following the Java Sea Battle in February, 1942.