World War 11 Casualties
&nbsp

If you could spare a few dollars to help with the running costs of this website would be very much appreciated.

Thank you from Gravesites of Tasmania.
Ireland, Robert Forbes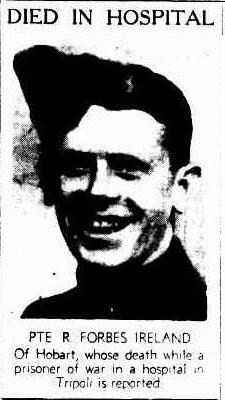 Examiner Launceston 26 Sep 1941
WAR CASUALTIES
Mrs. E. Ireland, of Sandy Bay, Hobart, has been officially informed through the Red Cross that her husband, Private Robert Forbes Ireland, has died of wounds while a prisoner of war. Private Ireland, who was a son of Dr. E. W. J. Ireland, of Hobart, and the late Mrs. Ireland, was 35 and before enlisting was engaged in the motor industry in Tasmania. He was educated at Hutchins School, Hobart. Enlisting In May, 1940, he served in Palestine and Libya. He was taken prisoner near Tobruk early in April.