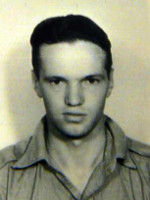 Born 2nd July 1918 at Oatlands Tasmania he was the son of George Henry and Amy Lethbridge Percy. His wife gave birth to a son two months after his death.
The Mercury 5 Jan 1945
Tasmanian Trainee Pilot Killed
MELBOURNE Thurs.-When an aircraft crashed shortly after, taking off on a non-operational training flight in eastern Victoria, Flying Officer Francis Edward Keach, trainee pilot, of Chiswick, Ross (T) was killed.
The pilot instructor, P-0 Robert' Spencer Roberts, of Medingie (SA), was severely injured, and died in hospital. The navigator, Sgt D. L. Jones, of Mayfield (NSW), was injured and is in an RAAF hospital.