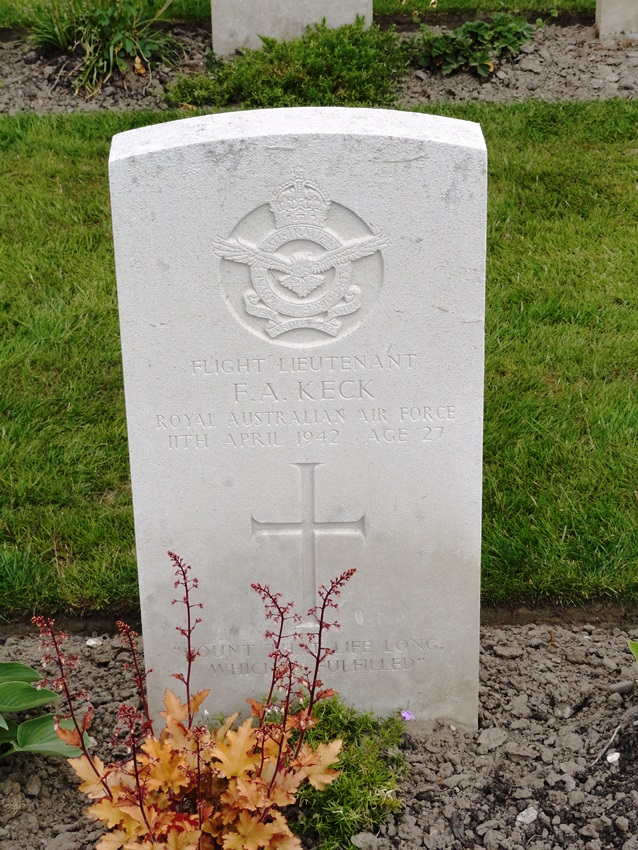 Born 2 June 1914 South St Invermany Launceston Tasmania the son of the Rev Harry Alfred George and Ethel Annie Keck (nee Wylie) Frederick Abbey Keck was a bank official before he enlisted in the RAAF.
FO Keck was the navigator of Hampden AT 221 which took off from RAF Wigsley to bomb the main square of Essen, Germany. Nothing was heard from the aircraft after take off and it failed to return to base.
After the war it was established that the aircraft crashed at Sturzelberg and all the crew were killed.
The Argus Melbourne 29 Sep 1942
KECK.-On March 30, over Libya, Flight-Lieut. Harry Kingwell and on April 10 over Germany, P.O. Frederick Abbey, eldest and second eldest sons of the Rev. H. A. G. and Mrs. Keck, and brothers of Lieut. W. D. (A.I.F.), Lieut. J. C. (A.I.F.), Captain J. W. (A.I.F.), Dvr T.M. (A.I.F.), Lurline, and Bruce, aged 30 years and 28 years. - "Thou shalt love with all thy strength".