World War 11 Casualties
&nbsp

If you could spare a few dollars to help with the running costs of this website would be very much appreciated.

Thank you from Gravesites of Tasmania.
Lloyd John Hansbury Gordon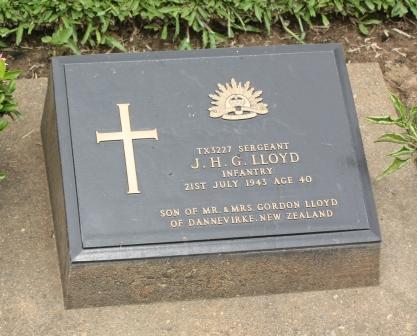 Born 3 February 1903 Dannevirke Hawke's Bay New Zealand to Thomas Henry Gordon and Marion Lloyd but was living and working in Tasmania when he enlisted in the army.
It was reported in the Advocate Burnie on the 6th November 1943 that he had been taken prisoner
"Sgt. J. H. G. (John) Lloyd, District Agricultural Officer at Burnie, who enlisted in thc A.I.F. in 1940, has been reported a prisoner of war in Japanese hands. Sgt. Lloyd was taken prisoner at Singapore."
It was not long after he was captured that he contracted cholera and died.
He is commemorated in the Kanchanburi War Cemetery