World War 11 Casualties
&nbsp

If you could spare a few dollars to help with the running costs of this website would be very much appreciated.

Thank you from Gravesites of Tasmania.
Near Walter Stanley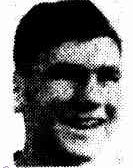 Born 25 Aug 1920 Hobart Tasmania and was a member of HMAS Birchgrove Park which in August 1943 arrived in Port Moresby and for the next two years she served various New Guinea ports. On 22 September 1945 HMAS Birchgrove Park was in Ambon (now Indonesia) which is where Petty Officer Near lost his life.
NEAR.-On October 17 1945, died of wounds on active service, AGH Hospital, Morotai, Petty-Officer S. W. Near (RAN), beloved youngest son of Mrs A. Lewis, and loving brother of John, Doris, Milly, Bill Floss, 339 Macquarie St, Hobart. His duty nobly done.