World War 11 Casualties
&nbsp

If you could spare a few dollars to help with the running costs of this website would be very much appreciated.

Thank you from Gravesites of Tasmania.
Pearsall Alan Louden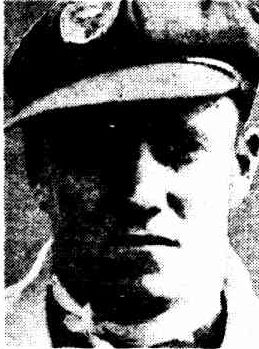 Born 21 May 1915 Edinburgh Hospital Hobart to Benjamin James and Olive Mabel Pearsall (nee Marsden). He married on the 15th Mar 1941 Dorothy Eva Bumford.
He was an Australian sportsman who played first class cricket for Tasmania and Australian Rules football in the VFL with South Melbourne.
He made seven first class appearances for Tasmania during he 1930's scoring a total of 300 runs at 23.07 and taking 6 wickets. He made his debut in a match against an Australian X1 team and dismissed Bill Brown for 96. Ian Johnson and Keith Miller are other test players who he took the wicket of in his career.
When he moved to Victoria to do his pilot training he joined South Melbourne and played two VFL games for the club in 1941. Back in Tasmania he played football for Lefroy.
In World War 11 Pearsall served as a Flying Officer with the RAAF was seconded to 16th squadron RAF and was killed 8 March 1944 when the plane he was in was shot down off the coast of France into the English Channel
The Mercury 28 July 1945
Athlete's Death On Active Service
LATE F-OFFICER ALAN PEARSALL
F-Officer Alan Pearsall, who previously, was reported missing when piloting a Spitfire plane on photographic reconnaissance duty over Europe, and is now presumed dead, was one of the most prominent footballers, and cricketers in Tasmania, with many fine records.
He took part in 12 South v. North, football matches. Playing at full- back for the Lefroy Club, he was always considered one of the club's most consistent players.
In cricket he represented Tasmania on a number of occasions in interstate matches. In his first match with South against North at Launceston he scored 62 not out, and took five wickets for 29. In his last match, playing for Kingborough against South Launceston for the State premiership, he made 100 not out.
Playing with an RAAF team in England in the 1943 season, he was most successful in batting and bowling. His highest score was 97, and best bowling performance seven for 13, including the hat trick.
He was educated at the Hobart High School, and in his last military examination was top of the class of 72. He leaves a wife and one child.