World War 11 Casualties
&nbsp

If you could spare a few dollars to help with the running costs of this website would be very much appreciated.

Thank you from Gravesites of Tasmania.
Robinson George Ronald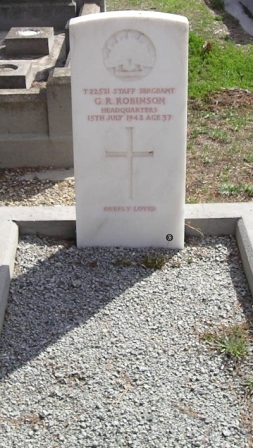 Born 26 Aug 1904 at Spring Bay Tasmania, George Ronald Robinson was the son of Harry Robinson and Jane Pearce. He is buried at Cornelian Bay Cemetery.
The Mercury 16th July 1942
DEATH OF SOLDIER
Road Collision
Staff-Sgt. Ronald George Robinson (37) married, was killed yesterday when a military motor-cycle he was riding collided with a motor lorry on the Cambridge Rd.
Staff-Sgt. Robinson was riding towards Bellerive, and when about 250yds. on the Bellerive side of the Horseshoe Inn his motor-cycle came into collision with a lorry driven by James Maurice Campbell (18) of Cambridge. Death apparently was instantaneous.
The death was reported to the Coroner (Col. Clark).
Staff-Sgt. Robinson is survived by a wife and two children.