World War 11 Casualties
&nbsp

If you could spare a few dollars to help with the running costs of this website would be very much appreciated.

Thank you from Gravesites of Tasmania.
Rothery Noel Anson Joseph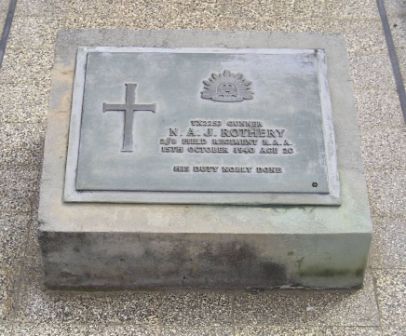 DEATH OF A.I.F GUNNER
Truck Overturned
Gnr. Noel Anson Rothery (20), of the A.I.F. whose right leg was fractured when a military utility truck overturned near Tea Tree on Friday while a party was returning from a training exercise, died in the Royal Hobart Hospital yesterday. At an inquest at Brighton Camp last night the Coroner (Col. Clark) returned a finding of accidental death. Deceased was the only son of Mr. and Mrs. N. A. Rothery of Randwick, Sydney.
Lieut. Tasman Albert Jillett said he was driving the truck from Campania to Brighton camp, and Rothery and four other men were seated on the floor in the body of the truck. It was an open truck. About 300 yards on the Tea Tree side of the railway crossing he was driving into the sun and much dust was raised by a vehicle in front. Dust came through the windows and got in his eyes. He closed his eyes and eased the truck up with the intention of stopping. He noticed the truck was off the road, but was unable to get it back, and it somersaulted.
"I was thrown into a hollow and the truck rolled over me without touching me," said Gnr John Bell, who was on the tray of the truck. Deceased appeared to have been thrown clear, and I am of the opinion that his injuries were caused when he was thrown to the ground.
Bdr. Richard D. Room, who was travelling on the truck, and who has a probable fracture of the pelvis, is progressing satisfactorily.
The Mercury 16 Oct 1940