World War 11 Casualties
&nbsp

If you could spare a few dollars to help with the running costs of this website would be very much appreciated.

Thank you from Gravesites of Tasmania.
Tuttle Maxwell Thomas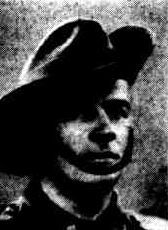 DEATH OF M TUTTLE
Member of A.I.F.
Max Tuttle, a member of the A.I.F., one of the outstanding footballers Tasmania has produced in recent years, died of wounds overseas on July 19. This advice has been received by his sister, Mrs. H. Ruddock, of Sorell.
As a youth he came under notice when playing for the Hutchins School. He joined Cananore in 1932, and immediately came into prominence. He won a place in the Southern team against the North in his first year of senior football. In the next year he was selected to play in the carnival games at Sydney. He was regarded as one of the most accomplished rovers since Gorringe, and took a leading hand in many of Cananore's successes. Able to kick with either foot and having a good turn of speed, Tuttle was ideal as a rover and half-forward.
In 1936 he was captain and coach of the Sorell Club, but in 1937 and 1938 returned to Cananore and was awarded the Cananore Old Players' Association trophy for the best and fairest player in 1938. He was a good all-round cricketer and made many big scores in country games.
At the time of his enlistment he was licensee of the Pembroke Hotel, Sorell, and a member of the committee of the Sorell Hall.
The Mercury 31 July 1942
The Mercury 31 July 1942
TUTTLE.-Maxwell Thomas, died of wounds abroad, aged 29 years, eldest son of Thomas and Ethel Tuttle, Pembroke Hotel, Sorell, loved brother of Lois and Rex, and loved brother in-law of Harold Ruddock and loved friend of Cyril Iles. Greater love hath no man than that lie lay down his life for his country.